Ford IDS VCM 2 GM MDI 2 Toughbook Dealer Package
Combokit2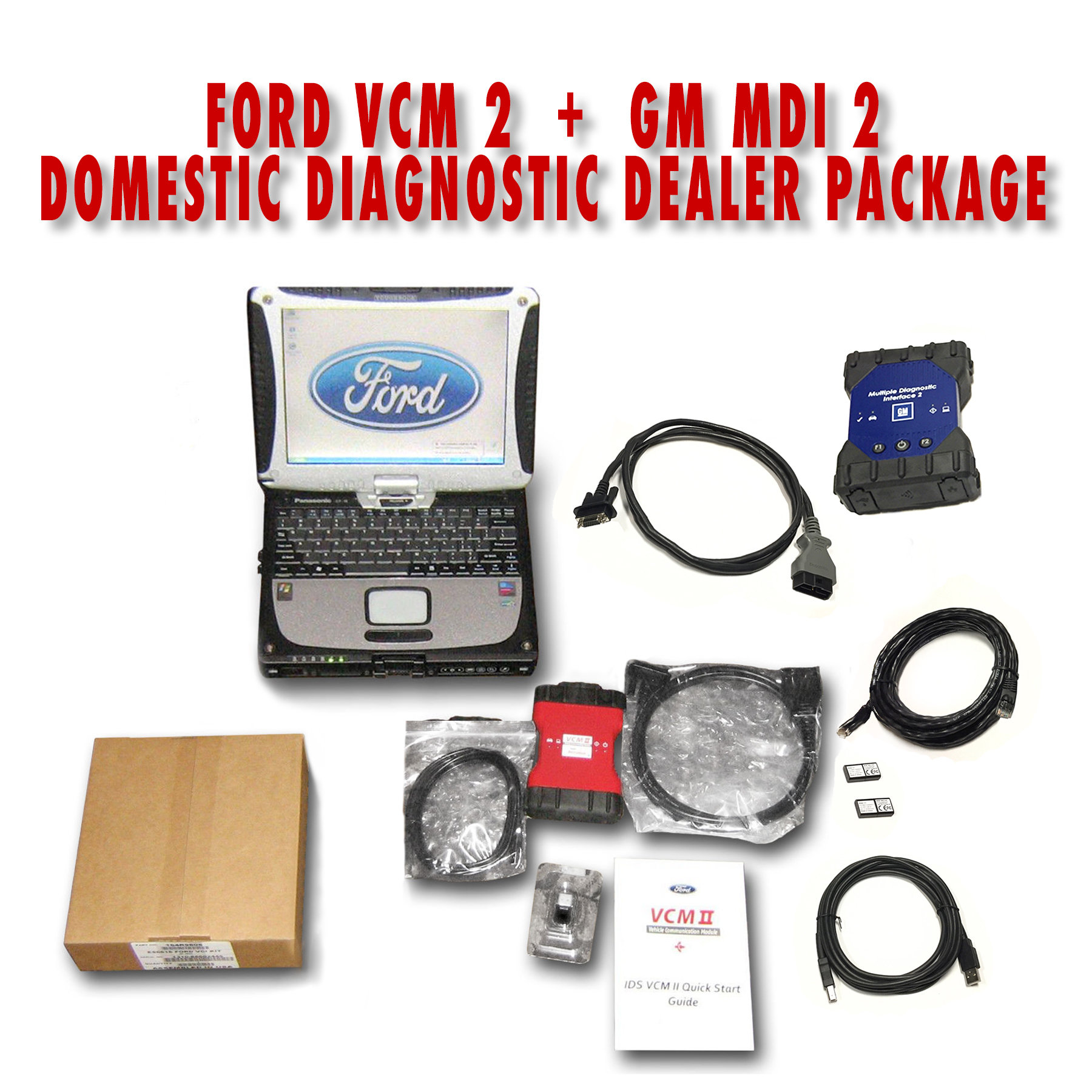 Ford VCM 2 GM MDI 2 Dealer Toughbook Kit
Full FORD and GM MDI Dealer Package Dual Partitioned Toughbook
All Set Up For you Shop and Ready To GO
There will be no more turning away work because NOW your shop will have the best diagnostics in the business that will do everything for you.
The Ford VCM II Offers:
Authentic OEM diagnostics for Ford, Lincoln, and Mercury vehicles 1996 Thru Current on all GAS and DIESEL
Includes One Year Dealers License
Customer Flight Recorder (CFR) functionality with an optional pendant cable
Industry standardized J1962 Data Link Connector (DLC) and USB cables
Four LED indicators and signaling device providing technician with continuous visual as well as audible operating status
Enhanced 802.11 wireless that minimizes dependencies on service department wireless capability infrastructure
Improved durability
SmartPower Management system to protect the VCM II in extreme environments
Integration with IDS:
New wireless software integrated with IDS installation package
Wireless functionality preferred for all IDS functions including module reprogramming. USB wired connections are only required to update the
GM MDI 2:
Description:
The GM MDI 2 is the next generation Global Diagnostic Interface tool for both current and future vehicles, and extending through future vehicle protocols and architectures.
It's a compact communication module with increased processing power and security that manages the transfer of data between a vehicle's onboard ECU network with an auxiliary CAN bus.
The GM MDI 2 replaces the MDI introduced in 2007, for Pass-Thru programming and offers faster programming speed than the MDI.
The MDI 2 can be used to perform Pass-Thru programming on all GM vehicles built since 1996 and into the future. Servicing the current generation vehicles will require the diagnostic software, GDS2, Global Diagnostic System 2 running on a local PC device while the MDI or MDI 2 is connected to the vehicle. The MDI 2 connects to the vehicle via the J1962 connector using a DLC cable. Connection between the MDI 2 and the PC can be accomplished via standalone (USB) and the dealership network (CAT5).
The Dealer Toughbook Package Comes All Set Up Ready to go..