Ford IDS VCM 2 VCM 1 VCM II IDS One Year OEM Software License
F0104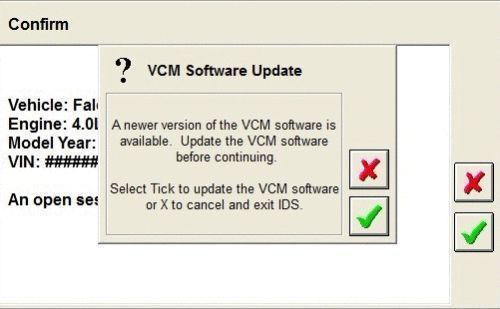 FORD VCM II ONE YEAR SOFTWARE LICENSING.
ALL PROGRAMMING, FLASHING, SCANNING. FULL ONE YEAR SOFTWARE LICENSE FOR YOUR VCM ONE AND VCM 2
License Key and Download Link will be emailed upon purchases. Usually within 10-15 Minutes
FORD VCM 2 Software

DIAGNOSTIC CAPABILITY (DOES IT ALL)

Retrieve CMDTC's

KOEO (Key-On-Engine-Off)

KOER (Key-On-Engine-Running)

Data logger

Body

Chassis

Electrical

Powertrain

Pressure/Vacuum Tests

Network Test

Module Programming

Programmable Module Installation


Module Reprogramming


Programmable Parameters


Body Tools

PATS Functions
*See Note Below

Remote Keyless Entry

Factory Keyless Entry Code

Restraints

Chassis Tools

Bleed anti-lock brakes

IVD Initialization Sequence

Ride Height Calibration

Pneumatic Test

Accurate Trim Test

Electrical Tools

Charging System Test

Parking Aid Switch Test

Audio

Powertrain Tools

EVAP Test

Fuel Economy Test

Fuel System Test/Relative Injector Flow Test
(VCM and VMM modules are required on some vehicles)

Ignition System Test

Spark Duration PIDs

Power Balance Test

Relative Compression Test

Transmission Test
(IDS - Some vehicles require only VCM)

Engine Checks and OBD Tests
(Drive Cycle, Mode 01, Mode 06 & Mode 09)

EGR Test

Other Powertrain tests & functions
Ford VCM In Action Programming an ABS Module
We have been serving shops for over 10 years providing OEM diagnostic tools such as the Ford VCM II, GM MDI, Chrysler Witech, DRB 3, Starscan, Tech 2, HONDA MVCI, Nissan Consult III, Toyota Techstream, MicroPod II, MAZDA IDS Package, Nexiq Heavy Truck, many other OEM tool packages and cables, software cards etc at dealer level pricing.We also provide the Ford Software, Tech Authority Licensing, and many other software packages.
Please give us a call today 800-294-1605, nobody will beat our pricing!
Ford IDS One Year Software License
Upon purchase code is emailed over