Ford IDS VCM 2 w/ One Year Software License 164-R9805
F0103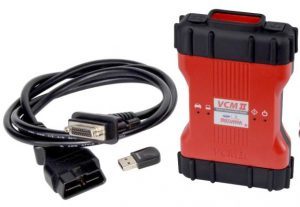 Ford Hardware Package Includes:
1 Year Full Access Dealer Subscription Included with This Hardware Kit!!
Full OEM OnBoard Diagnostics and Reprogramming Included
VCM 2 Hardware, All Cables and Wireless Module
2 Year Warranty

FORD VCM 2 Includes IDS Software LicenseDIAGNOSTIC CAPABILITY (DOES IT ALL)
Retrieve CMDTC's
KOEO (Key-On-Engine-Off)
KOER (Key-On-Engine-Running)
Data logger
Body
Chassis
Electrical
Powertrain
Pressure/Vacuum Tests
Network Test
Module Programming
Programmable Module Installation

Module Reprogramming

Programmable Parameters

Body Tools
PATS Functions
*See Note Below
Remote Keyless Entry
Factory Keyless Entry Code
Restraints
Chassis Tools
Bleed anti-lock brakes
IVD Initialization Sequence
Ride Height Calibration
Pneumatic Test
Accurate Trim Test
Electrical Tools
Charging System Test
Parking Aid Switch Test
Audio
Powertrain Tools
EVAP Test
Fuel Economy Test
Fuel System Test/Relative Injector Flow Test
(VCM and VMM modules are required on some vehicles)
Ignition System Test
Spark Duration PIDs
Power Balance Test
Relative Compression Test
Transmission Test
(IDS - Some vehicles require only VCM)
Engine Checks and OBD Tests
(Drive Cycle, Mode 01, Mode 06 & Mode 09)
EGR Test
Other Powertrain tests & functions
Ford Vcm 2 Programming an Abs Module
The VCM II is the brand new diagnostics interface from Ford ® for use with the Integrated Diagnostics Software (IDS). The VCM II and IDS, along with a dedicated laptop, provide full dealer diagnostic capabilities for most 16 pin Fords ®. A fantastic new function of the VCM 2 is its ability to communicate wirelessly with your laptop or computer without any hardware or software upgrades. This allows technicians to work on vehicles remotely while the VCM II is connected directly to the vehicle.
ORDER YOUR TODAY!