Vehicle Communications & Measurment Module Base Kit VCMM
F0106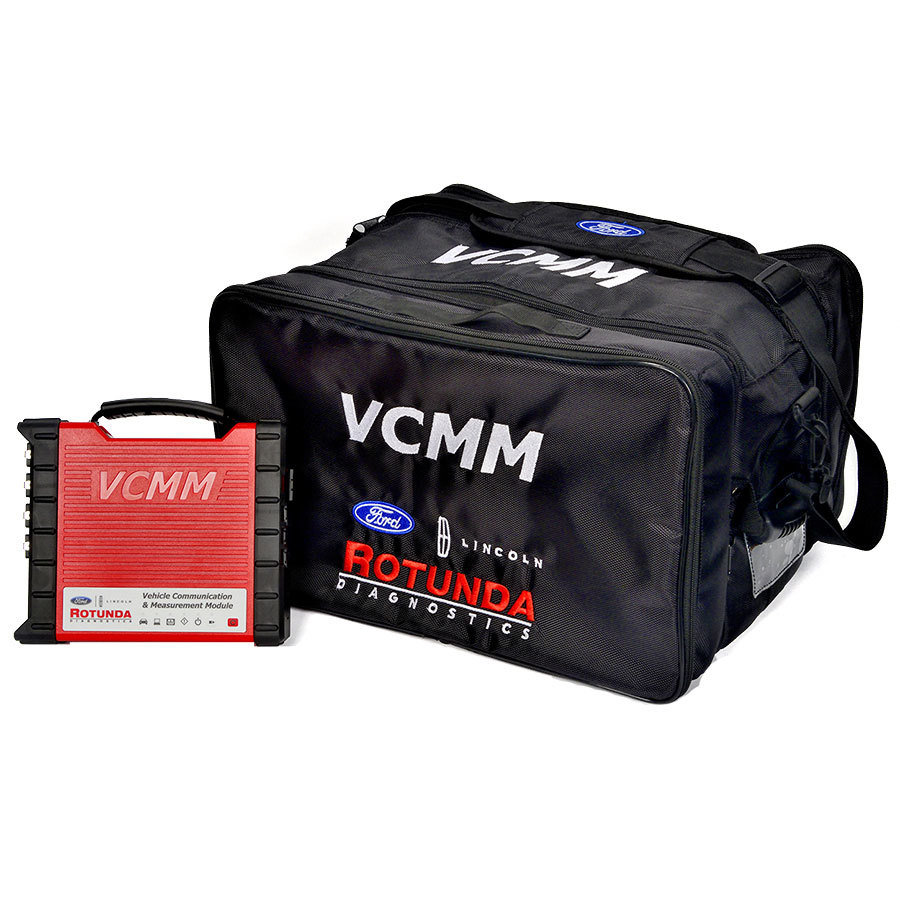 The Vehicle Communication & Measurement Module (VCMM) combines all of the functionality of the VMM, VCM II, and MTS 4000/4100 vibration analyzer in an industry leading one-box solution. The combining of this functionality will provide dealers with industry leading diagnostic capability at a significantly lower cost of ownership.
Key Features:
Vehicle Communication (VCM II capability)
Customer Flight Recorder capable
4-Channel Oscilloscope
4-Channel Digital Multi-meter
5th-Channel direct monitoring of the DLC connector
Vibration Analysis
Driveline Balance*
Signal Generator


4/5 Channel Oscilloscope
Improved user interface from VMM
Four independent differential Input Channels enables independent monitoring of signal types such as monitoring voltage while concurrently measuring voltage drop across the circuit.
A Fifth High Speed Channel that can directly monitor CAN signals at the DLC connector
Capture/Record capability to assist in capturing intermittent issues
Advanced Triggering capability
Pre-Configured setup configuration for common signals and procedures
New "Time/Angle" time based settings (CKP/CMP timing diagnostics)


Vibration Analysis and Driveline Balance
Similar functionality to the MTS 4000/4100
Improved user interface with reduced configuration and setup time
Color display
Record capacity
"Strobe light Pick up loop" for improved component identification*
Optional second vibration transducer*
Optional Dual Plane driveline balance*

*Requires Advanced Kit (164-R9823)



The Digital Multi-Meter
Monitor up to four independent readings at the same time
Capture/Record history
Graphing capability for up to two channels
Voltage, Current, Resistance, Pulse Width, Duty Cycle, Frequency and Period


Signal Generator
User configurable settings for signal waveform types: sine, square, triangle, pulse generator, DC voltage and arbitrary.
Verify integrity of module input wiring and the module hardware
Improved interface and greater adjustability of voltage and frequency.
System Requirements:
The VCMM will run on any Windows 7 or higher operating system that has 8GB of RAM or higher.
IDS software subscription required.

IDS License Purchase and Product Support
Additional resources including IDS software license purchase, software download, user's manuals, troubleshooting guides, system requirements, support and more are available by accessing the customer resource pages shown below.
Aftermarket and Fleets Customers - https://www.motorcraftservice.com/ and select Diagnostic Tool Support from the top navigation menu.
Dealers or customers with a PTS subscription - http://www.proservicetech.com/ and select Rotunda > Diagnostic Tool Support from the top navigation menu for IDS license and product information. For additional product or license technical support please fill out a TIS request form found under the technical support menu.